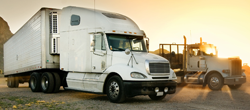 About Us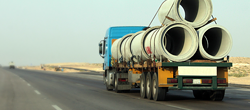 When
you first apply to the FMCSA for your MC (motor carrier) number
your information is sent via the internet to a publicly listed site that
all FMCSA authorized process agents have access to.
There are
many process agents nationwide and you will receive a number of phone
calls, faxes and mailings. If you have used our company or an
other agent please inform then that you already have an agent. We
at SKB Trucking Permits offer personalized service at lower cost, saving
you, our valued client money.
PROCESS AGENTS

Q: Process agents, who are they and why do I need them?
A: Federal regulations mandate that every Interstate Authorized For Hire Carrier operating
under their own operating authority have a current BOC-3 form
on file with the Office of Motor Carrier Safety. The BOC-3 form
is a list of registered process agents for each state, who, in the event
of a legal action being presented against the motor carrier by an
individual or legal entity from outside the carriers domicile (home)
state, would accept the papers being served on the carriers behalf and
then would forward them to the carrier being served. A current
BOC-3 form must be on file with OMSCA in order to secure operating authority and maintain operating status.
ALL COMPANIES THAT FILE FOR THEIR MC NUMBER ARE REQUIRED TO FILE A BOC-3, OTHERWISE KNOW AS THE 'DESIGNATION OF PROCESS AGENTS'.

Q: US DOT Numbers, Who must apply?
A:
All motor carriers operating a Commercial Motor Vehicle in Interstate
or Foreign commerce be assigned and display a USDOT number before
interstate operations begin. This includes all intrastate private,
exempt, for hire and passenger motor carriers. Motor carriers
operating intrastate transporting placarded hazardous materials must
also comply. **Non Haz Mat Intrastate carriers domiciled in
Connecticut and Maryland must apply for a DOT number off line and it
will take 4 to 6 weeks for the state to process.
A Commercial Motor Vehicle is defined by the FMCSR Part 390.5 for the purpose of compliance with DOT Marking Requirement 390.21:
Commercial
Motor Vehicle means any self-propelled or towed motor vehicle used on a
highway in interstate commerce to transport passengers or property when
the vehicle: has a gross vehicle weight rating (GVWR) or gross
combination weight rating (GCWR) or gross combination weight (GVW) of
10,001 pounds or more; Is designed to transport more than 8 passengers
(including the driver) for compensation; Is designation to transport 16
or more people including the driver, and is not used to transport
passengers for compensation; Is transporting hazardous materials in
quantities requiring the vehicle to be placarded. (There is no
weight threshold for placarded vehicles and applies to both intrastate
and interstate operations.) Effective January 1, 2003 all
Intrastate operators of commercial motor vehicles with a gross vehicle
weight rating (GVWR) or gross combination weight rating (GCWR) or gross
vehicle weight (GVW) or gross combination weight of 10,001 pounds or
more domiciled in the following states must now secure and display a
USDOT number: Alabama, Colorado, Florida, Georgia, Iowa, Kansas,
Kentucky, Michigan, Minnesota, New York, Ohio, Oregon, South Dakota,
Tennessee, Utah, West Virginia and Wisconsin.
UCR (Unified Carrier Registration Plan):
The
Unified Carrier Registration Plan or UCR is the new interstate
agreement governing the collection and the distribution of registration
fees and financial responsibility information that replaces the Single
State Registration (SSR).
This plan started in September 10, 2007
with enforcement starting November 15, 2007. All
UCR's must be renewed yearly. Unlike the old
SSR, all entities conducting interstate operations must register.
This includes; Brokers, Freight Forwarders, Private Motor Carriers,
For Hire Motor Carriers (including authorized for hire and exempt
carriers), Carriers of Passengers and Leasing
companies. Anyone that is holding a separate MC number such
as a broker and motor carrier must register each entity
separately.
Also, unlike the old SSR system, trailers
will be included in the calculation of fees. When completing the
application, trailers and power units will be added together to
determine the fees due based on the total number of units.
The Following pertains to carriers with operations in New York , Kentucky or New Mexico:
New York: All
vehicles 18,000 pounds and over must have a NY HUT. This permit
is available as temporary that will convert to permanent. All
tractor trailer units that transport any type of fuel must get an AFC
permit for trailer as well as a HUT for Power
unit. All straight trucks that transport any type of fuel must get an AFC permit only.
Kentucky: All
vehicles with an actual or registered gross weight over 59,999 pounds
must have a KYU number. Available as a temporary but must apply
via application to secure permanent. If time allows it is
advisable to secure permanent credentials. You must have a KYU
number before operating on Kentucky highways. A KYU number is
proof that you have registered with Kentucky to pay a per mile
tax. Highway use tax forms will be sent to you on a quarterly
basis and must be completed and returned by the required due date.
KYU numbers no longer need to be posted on the sides of your power unit
since your USDOT# will be used as means of identifying the carrier and
the status of the carriers KYU account.
New Mexico Weight Distance Tax ID: All
commercial motor vehicles with a gross weight of 26,001 pounds or more
must secure a New Mexico Weight Distance Tax Identification Permit
before operating on New Mexico highways. Temporary permits
are available at the New Mexico Port of Entry but are a costly
alternative to securing a permanent permit. The NM Weight Distance
Tax ID Permit is proof that you have registered with the New Mexico
Department of Taxation and Revenue to pay a per mile tax. Highway
use tax forms will be sent to you on a quarterly basis and must be
completed and returned by the required due date.
Broker Bonds:
A property broker must have a surety bond or trust agreement in effect
for $10,000. The FMCSA will not issue a property broker license
until a surety bond or trust is in effect. The broker license
shall remain in effect only as long as a surety bond or trust is kept in
effect. Keeping the bond or trust in effect is the sole
responsibility of the broker. Evidence of a surety or trust
must be filed using the prescribed Form BMC-85. These forms are
furnished by the financial institution providing the surety or trust
agreement. The surety or trust agreement is to ensure the
financial responsibility of the broker by providing for payments to
shippers or motor carriers if the broker fails to carry out its
contracts, agreements or arrangements for the supplying of
transportation by authorized motor carriers.
To have an agent contact you regarding a bond or trust agreement, please complete the contact page and submit it to us.
Q: What is the BOC-3 and why do I need one?
A:
The BOC-3 is the form used by the FMCSA to list the "process
agents" in all states. A "process agent" acts as a representative
to forward legal or court documents in any proceeding that might be
brought against your company. Having a process agent listed in all
50 states is known as a "blanket coverage". We do provide this
type of coverage for all who apply for our BOC-3. Everyone who
files for ICC Interstate Authority is required by the FMCSA to have a
BOC-3 with current "process agents" in every state traveling through or
conducting business. Without a BOC-3 on file with the FMCSA, you
cannot receive a Certificate of Authority.
BOC-3 FILING:

Now that you have your MC number you need to comply with the rest of the filings the FMCSA requires of you.
1. Common Carrier BMC91 (Liability Insurance) and BMC34 (Cargo Insurance)

If you filed as a Common Carrier and you are a towing company with a
hook policy in your Liability you are exempt from the Cargo
filing, so please make us or FMCSA aware of this. If
you are also a dump truck hauling dirt, or an exempt commodity please
call us for that filing as well. You need to call your insurance
company and give them your MC number and ask them to electronically file
proof of your liability coverage to FMCSA. This process should
only take 72 hours to post depending on the insurance company.
2.
Contract Carriers: BMC91X (Liability Insurance) NO Cargo Insurance Required

Filing as contract carrier you are only required to file proof of
liability. You need to call your insurance company and give them
your MC number and ask them to electronically file proof of your
insurance with the FMCSA. This process also, usually takes only 72
hours depending on the insurance company.
3.
Broker BMC85 (Broker Bond in the amount of $10,000)

If you have not already found a company to help you with this bond please
contact us. We do have a company that we trust will give you the
best deal and the best customer service.
There are two filings
you need to complete before they will issue you a grant date.
Right now the MC number you have is your permanent number, but it will
not be activated until the above two filings are completed.
You
will be put on a protest board within 3-4 business days after you
receive your MC number and you will remain there for 10 consecutive
days. As long as your BOC-3 and insurance are on file within those
ten days then you will be issued a grant date that will be effective
within 3-4 business days after those consecutive 10 days have passed.
Please Note: FMCSAwill not issue a grant date until the BOC-3 and insurance are on file.
If you do not complete your filings within these 10 days, you will not lose you authority,
however you will not be able to operate
with out BOC-3 and insurance being on file. However, the FMCSA
will only allow you 90 days from issuance of your MC number for you to
comply with the remaining filings, so if your insurance takes a few more
weeks to do that filing for you it will still be ok. Once the 90
days has past if you do not have both your BOC-3 and insurance on file
your MC number will be revoked and you will have to reapply all over
again.
Q: What is Interstate Authority?
A:
Any motor vehicle or freight broker operating for hire across state
lines. In other words, if you are operating (for-hire) outside the
state your business is located then you need ICC Interstate Authority.
Important Instructions on obtaining your Interstate Authority

In order to secure your Interstate (formerly ICC) Authority quickly and
efficiently please take the time to review these instructions:
Contact your insurance agent and determine that you have adequate insurance
coverage. Also advise your agent that we will be contacting them
upon receipt of your MC Docket Number. (approximately 2-3 weeks from the
date that you receive your completed questionnaire) We will be
requesting that they contact your insurance company to file the
prescribed forms as required by the Office of Motor Carrier Safety
Administration. This filing must be done within 21 days of a
docket number being issued. If the filings are not made in this
time frame you will be issued a warning which will state that you have
an additional 60 days to file proof of adequate insurance. If
within this time frame your insurance is not on file, your application
will be dismissed. There are no refunds for dismissed
applications.
SKB Trucking Permits can assist you throughout the entire process.
​